Friday, 11:00am
28 March 2014
Graphic protests inspire laughter and hope
In the run-up to the Turkish elections, designers satirise the actions of prime minister Recep Tayyip Erdoğan. Report by Gülizar Çepoğlu.
A deluge of satirical poster designs and artworks have become a powerful form of protest for Turkish people, writes Gülizar Çepoğlu.
The Turkish elections (on Sunday 30 March 2014), follow a tense time for the country. As a consequence, designers, both amateur and professional, are setting out to address sociopolitical problems by creating and organising collective creative spaces and publicising their actions online.
Evidence suggests that 15,000 users sent at least one tweet from the Gezi Park protests, which began in May 2013 (see 'Portrait of a revolution' on the Eye blog). Since then, social media has played a pivotal role in spreading anti-government messages in Turkey. The leadership of prime minister Erdoğan is the focus of satirical imagery that can be found on blogs and dotted across Twitter, tagged with with bobiler.org, #direngeziparki and direnduvar.com.
Blogs such as Bobiler and Bjurynbũrddan have allowed Turkish designers to establish online networks and collectives for circulating politically charged creative content. These blogs support self-organising networks, communities that function collectively to design for social change with people and their freedom as their primary concern. They aim to protect democracy by resisting what they see as an authoritarian and corrupt government.
Bobiler gets more than 100 million hits per month and 90, 000-plus members who upload their visual statements to the site, which defines itself as 'a parallel universe that we create together'. Bjurynbũrddan, an intentially ackward and funny spelling of 'Buyrun burdan' (a polite way of saying 'Come in this way please!' or 'After you this way please!'), has a logotype that is a subtle mutation of the Ikea logo disguised to read 'Idea: everything that is yours'. This kind of text-image manipulation is seen throughout the site.
Social media is at the heart of the Turkish protests and has been defiantly acknowledged by Turkish prime minister Erdoğan, who described it as 'the worst menace to society'. Users who upload imagery to the sites prefer to remain anonymous. They are understandably fearful of prosecution, and reports reveal that 25 people were arrested because of their use of Twitter and other social media to spread information about the protest. Collective design activism is their starting point and the ultimate aim of these sites.
Re-appropriated Hollywood film posters ridicule the ruling power by replacing actors such as Uma Thurman in Pulp Fiction, Nicholas Cage in Lord of War and Leonardo DiCaprio in The Wolf on Wall Street with the face of Erdoğan. His fellow AK Party (Justice and Development Party) members become Hobbits in a poster reading 'The Hobbit: The Desolation of Turkey 12.14.12' and protesters become rats (in reference to Erdoğan calling protesters rodents), in a version of the Ratatouille DVD cover.
Other digital artwork places the prime minister as the central figure in Munch's The Scream and falling off a horse in the form of an Eadweard Muybridge motion study (based on an event that occured in the summer of 2013 at the inauguration of a Bayrampasa park).
The images below emphasise these anonymous designers' ability to visualise momentous sociopolitical events. I hope that their efforts will help shift the outcome of the forthcoming Turkish elections. The work of these proactive social designers are satirical responses to prime minister Recep Tayyip Erdoğan that expose the shortcomings of the state without anger or destruction. They inspire laughter and hope.
Homage to Picasso's Guernica.
Top: 'The Marmaray' is a rail tunnel under Istanbul's Bosphorus Strait. It is the first standard-gauge rail connection between Europe and Asia, a project of which Erdoğan is very proud. He says: 'If you do not like us, do not use the rail.'
Here, Turkish prime minister Recep Tayyip Erdoğan is portrayed as the Lord of War. This image is especially appropriate after Erdoğan had a Syrian Assad regime fighter jet shot down.
The 'Gas Brothers: They'll never get caught. They're on a mission from God' with the lead roles played by Erdoğan and Istanbul's Mayor Hüseyin Avni Mutlu (whose names are translated to English on this Blues Brothers homage).
Prime minister Erdoğan as Pulp Fiction heroine Mia Wallace (Uma Thurman).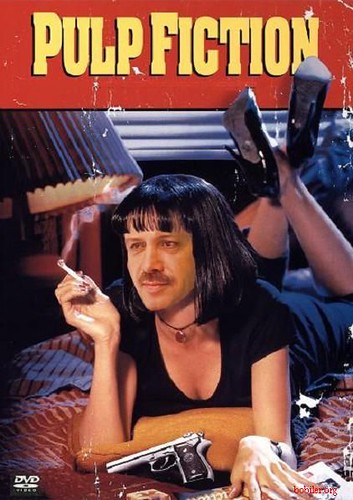 Erdoğan replacing actor Kemal Sunal in Aziz Nesin's Zübük. Aziz Nesin was a prominent Turkish writer, who satirised bureaucracy and exposed economic inequalities in his stories. His character Zübük is comparable to Erdoğan in many ways and the story evolves around a corrupt politician.
The Terminator has turned into Tayipator in response to Erdoğan's declaration: 'Istanbul was conquered in 1453 this means in 2053 it is going to be the 600th anniversary. AK Party is heading towards this date. We have already started to work on a huge celebration.'
Erdoğan comes from a district called Kasimpaşa in Istanbul, a poor central area very close to Taksim Square, the centre of the protests. The stadium for the local football club, Kasimpaşa Spor, was recently renovated and renamed after him. This poster likens the prime minister to The Wolf of Wall Street.
Here, chef Erdoğan tries to stop the cheeky rodents (protesters) from getting him in trouble. His rodent reference has become a comical one.
Munch's painting The Scream has become a familiar image to characterise Erdoğan and his party.
In June 2013 during the Turkish riots, The Economist placed Erdoğan on its front cover disguised as a sultan holding a gas mask. The Economist criticised the prime minister, saying that Turkey will not put up with a middle-class democrat behaving like an Ottoman sultan. Jamie Reid's famous Sex Pistols cover becomes 'God Save the Sultan'.
This image responds to Erdoğan restricting access to Twitter, followed by a ban on YouTube in Turkey on 27 March 2014. There have been rumours that Erdoğan will attempt to shut down the internet before the elections.
Gülizar Çepoğlu, editorial designer, researcher and educator, London
Eye is the world's most beautiful and collectable graphic design journal, published quarterly for professional designers, students and anyone interested in critical, informed writing about graphic design and visual culture. It is available from all good design bookshops and online at the Eye shop, where you can buy subscriptions and single issues.